Calvary Senior Care is a home care provider in Rancho Cucamonga, California outfitted with patient care services for seniors in need of home care assistance. We offer services such as companion care, personal care, and homemaking. We also ease caregiver burnout through our respite care services. Let's make senior living a whole lot easier and more convenient by assisting your family with in-home care services.
We make senior living easier by providing our clients with exceptional home care services. Caregiving is a type of career that needs compassion and sensitivity. The care plans we generate are in accordance with your unique needs and preferences, as well as the right standards of care.  Senior living is better when the care is genuine and top quality.
Caring for a loved one with Alzheimer's at home can be difficult, but you don't need to do it alone, and you may not need to put them in a facility to keep them safe. Alzheimer's home care can help your loved one stay safely in their own home (or yours), even as the disease progresses.
What is Alzheimer's care at home? How long can a person with Alzheimer's live at home? Is there home care for dementia patients? How do you know if your loved one needs Alzheimer's home care? How can you find the best company that provides dementia care at home?
How Long Can a Person With Alzheimer's Disease Live at Home?
With the proper type and amount of support, a person with Alzheimer's or any other type of dementia may be able to live at home for the rest of their lives. 24-hour home care is even available for people with Alzheimer's Disease and dementia to help them safely age at home when it isn't safe for them to be alone.
How Do You Care for an Alzheimer's Patient at Home?
Caring for Alzheimer's patients at home is about ensuring they are kept safe and that their daily needs are being met. Alzheimer's care at home involves everything from companionship to monitoring (to prevent them from wandering) to meal preparation to light housekeeping to assistance with things like toileting and bathing.
Is There Home Care for Dementia Patients?
Caring for a parent with dementia at home can be difficult, but as with Alzheimer's home care, there is home care available for dementia patients. Dementia care at home is about safeguarding your loved one and ensuring their daily needs – such as hygiene, toileting, and eating – are met.
Learn more about different non-medical home care options by Calvary Senior Care. We serve to provide in-home care in the Rancho Cucamonga, CA, and surrounding areas. Our caregivers are trustworthy and dependable.
Providing exceptional Alzheimer's Home Care for seniors and families in Rancho Cucamonga, Fontana, Redlands, Upland, Ontario, Beaumont, Riverside, Pomona, Rialto, Claremont and surrounding cities in Inland Empire, California.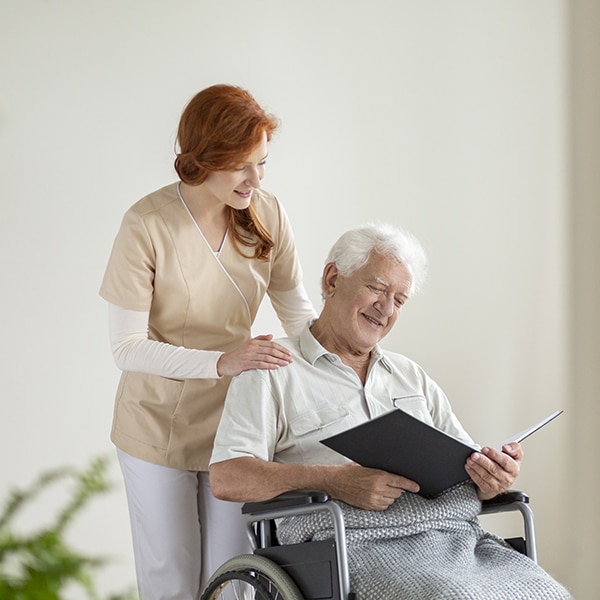 What Is Alzheimer's Care at Home?
Alzheimer's home care involves nonmedical assistance to help people with their activities of daily living. According to the National Institute on Aging [1]:
Read the kind words from previous clients. Our testimonials and reviews help families discover how dedicated we are to customer satisfaction.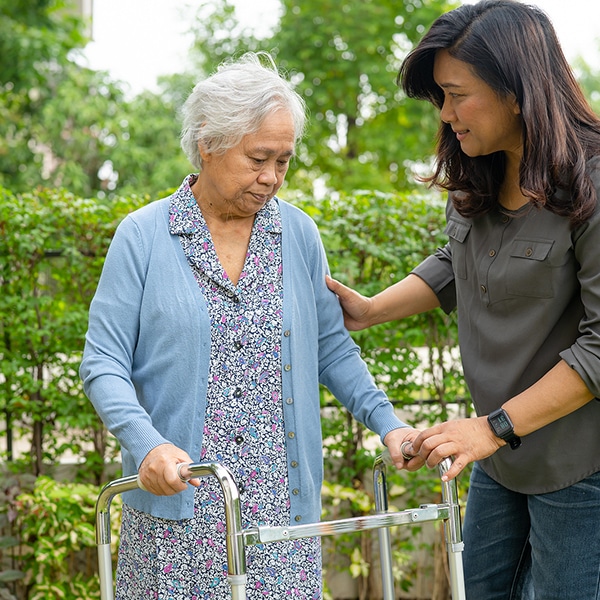 What Types of Services Are Included With Dementia Care at Home?
Dementia and Alzheimer's home care services typically include things like:
Monitoring

Wandering prevention

Medication reminders

Meal planning and preparation

Mobility and transfer assistance

Help with toileting and bathing

Picking up groceries and prescriptions

Laundry and light housekeeping

Transportation and accompaniment to appointments

Assistance with grooming and dressing

Managing moments of anxiety, confusion, and anger

Companionship
Don't underestimate the importance of companionship for your loved one. According to the Centers for Disease Control and Prevention [2]:
Ready to find out more about Calvary Senior Care's home care services? Click Get Started, fill out the form and let's chat about your senior care challenges. If you have questions, we have answers.
How Do I Know if My Loved One Needs Alzheimer's Home Care?
Whether your loved one wants to remain independent for as long as possible or you're reluctant to ask for help, it can be difficult to know when your loved one needs Alzheimer's care at home. While it's never too early to bring in dementia home care, here are some signs it's time for help [3]:
Incontinence. You don't want your loved one sitting or lying in their own filth for hours on end, so if they're becoming incontinent, you should bring in Alzheimer's care at home so they're never left alone.
The death, deterioration, or exhaustion of their primary caregiver. Whether your loved one's spouse passed away, your sibling who was caring for your parent now has health problems of their own, or you're experiencing caregiver burnout, it may be time to bring in help.
Changes in behavior or physical health. Perhaps your loved one had been doing fine living alone in the beginning stages of their dementia, but now they appear thin or frail due to forgetting to eat or taking too much or too little of their medications.
Disorientation and confusion that make it unsafe for them to be alone, such as wandering, driving after they've had their license revoked, or leaving the stove on.
-Caring for Alzheimer's patients at home is about ensuring they are kept safe and that their daily needs are being met.
Have questions about in-home care? Click here to give us a call and let's have a conversation. We can answer your questions.
What Should I Look for When Searching for Alzheimer's Care at Home?
Trying to find the best Alzheimer's or dementia home care company may seem daunting. Here are some questions you should ask when interviewing potential companies [4]:
Is your agency licensed?
Do you screen caregivers for contagious diseases?
Do you check driving records and do background checks on potential caregivers before hiring them?
Are your caregivers insured and bonded?
What educational requirements do you have for your caregivers?
What is the turnover rate for your caregivers?
Do you handle all payroll paperwork?
Can I interview potential caregivers? Do I have input on who gets assigned to my loved one?
How do you supervise caregivers?
Will my loved one see the same caregiver for each visit?
What happens if the caregiver can't make it? Do you send a replacement?
How does your agency handle complaints?
Can I get references for your agency and the caregiver we get?
National Institute on Aging, Getting Help with Alzheimer's Caregiving, https://www.nia.nih.gov/health/getting-help-alzheimers-caregiving
Centers for Disease Control and Prevention, Loneliness and Social Isolation Linked to Serious Health Conditions, https://www.cdc.gov/aging/publications/features/lonely-older-adults.html
Ruben Castaneda, US News & World Report, 5 Signs It's Time for Memory Care, https://health.usnews.com/wellness/articles/signs-its-time-for-memory-care
WebMD, Help With in-Home Care for Someone With Alzheimer's, https://www.webmd.com/alzheimers/alzheimers-paid-home-care