When your elderly family member lets you know that it's her plan to keep aging in place right where she is, you need a plan to help make that happen. As your elderly family member ages, there's more that needs to be planned out in order to ensure that she's got the support she needs.
Talk with Your Senior about Why She Wants to Age in Place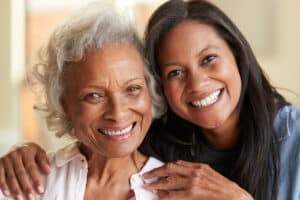 What are your elderly family member's reasons for wanting to age in place? It's extremely common for aging adults to have a variety of reasons for staying right where they are. If your senior has lived in her home for a long time, she's understandably reluctant to leave. She may also have reasons related to her community and to social connections that she has in that area. 
Look at Whether Your Senior's Home Supports Aging in Place
When you're talking with your senior about the possibility of her staying where she is, you need to get realistic about whether her home supports her desire to age in place. The big concerns are going to be around safety concerns as well as whether her health is going to allow her to stay there. If there's a lot of clutter, for instance, and your senior is dealing with mobility concerns, some changes may need to be made.
Make a Plan to Correct Anything that Needs Correcting
After you know what might need to be corrected, the next step is to put a plan together to do just that. You may want to consider how adding safety gear, such as grab bars and other tools, can help. Adding and using assistive devices, like a shower chair, is also an option. Finally, it's important to find out if your senior is willing to accept additional help.
Compromise with Your Senior about What Help She'll Accept
Lots of seniors don't want help from family caregivers or from elder care professionals at first. But having some extra help does not mean that your elderly family member is losing her independence. If anything, having help from home care providers ensures that your elderly family member has the help that she needs in order to continue to meet her goals to stay where she is.
Re-evaluate the Situation Over Time
Over time, things change. Your senior's health changes or she may find that she's even more willing to accept help from elder care providers. When you and your elderly family member set aside time periodically to talk over what's working for her and what isn't, that gives you both a chance to put new solutions in place. This also helps to ensure that your senior still has input and choices where she needs them the most, around her own care plan. 
Supporting your senior in her goal to age in place can be the right choice for quite a long time with the right help in place for both of you. What matters most is that you're paying attention to changing needs and adjusting as necessary.
If you or an aging loved-one is considering Elder Care in Fontana, CA please contact the caring staff at Calvary Senior Care today. (866) 710-8767
Latest posts by Andrew Bosompem
(see all)